The development of rooftop solar projects makes considerable sense for commercial segments as the levelised tariffs are significantly lower than grid-based tariff. These segments are, therefore, driving growth in the rooftop solar space, followed by the government & institutional segments.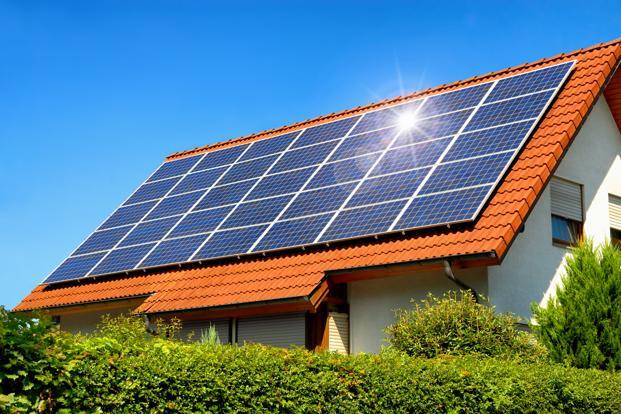 Renewable energy contributes about 20 per cent to India's installed capacity. Although conventional fuels still dominate this segment, the share of renewable sources has been steadily increasing from about 10 per cent in 2009. This growth has been fuelled by the increased availability of renewable sources at competitive costs near industrial demand centers, declining capital costs of equipment, and rising grid tariff of industrial and commercial consumers. Measures like preferential tariffs, accelerated depreciation, generation based incentives, third party power sale option, provisions for the banking and wheeling of power, concessional loans, and prompt clearances have also played a crucial role in promoting the renewable power segments growth.
The climate change threats are driving our dependence on pollution-free sources of energy to minimize greenhouse gas emissions. Solar PV energy is one of the cleanest sources of electricity and is being considered as next to fossil fuel based conventional electricity systems. India has set its renewable energy capacity addition targets to 175 GW by 2022 in view of the significant renewable energy potential in the country. This includes 100 GW from solar, 60 GW from wind, 10 GW from biomass and 5 GW from small hydro power. Solar photovoltaic rooftop has emerged as a potential green technology to address climate change issues by reducing reliance on conventional fossil fuel based energy.
With a strong commitment to increase the renewable sourcesbased energy capacity, India has a target to install 100 GW of solar energy capacity which includes 40 GW from solar rooftop. Some of the electricity demand will be met locally through these rooftop solar installations, leading to less requirement from the grid. For players that need smaller capacities, rooftop solar is an attractive option. Another upside is the additional revenue that rooftop solar can derive from the sale of surplus power to the grid. It is also used to
fulfill the renewable purchase obligation of distribution companies.
Most of India's installed solar capacity is ground mounted with rooftops accounting for only a little over 7 per cent of the total. However, the government is making concerted efforts to promote this segment with 40 GW by 2022 target being planned on rooftop. The countries' total installed rooftop solar capacity has crossed 2 GW. A number of states have come forward to support the centre's plan and are encouraging rooftop solar plants based on net metering. Such projects are quick to implement and offer stable and fast returns. Solar rooftops are gaining relevance in the energy security plans of small, medium and large scale industrial users. However, with a number of positive policy and technology developments taking place, the pace of installations is expected to pick up. With favourable project economics, a progressive regulatory scenario and easier availability of finance, segment growth is clearing picking up.
Development of Rooftop
World cumulative installed solar energy capacity was 3.7 GW in 2004 has reached 177 GW in 2014 i.e., increasing almost 50 times in ten years. Over the past two year, there has been a strong impetus to rooftop solar, which has resulted in a sharp increase in installed capacity. The rooftop solar segment grew by 80 per cent in last two years over FY 2015-16. As opposed to other rooftop-rich countries that have grown on the back of high capacity additions in the residential rooftop segment, the Indian market has seen greater growth in the commercial and industrial rooftop solar segments. As of March 2018, the total installed solar power capacity in India stood at 21.6 GW, of which 9.6 GW was added in FY 2017-18.
As of March' 2017, the installed rooftop solar capacity in India was stood at 1.40 GW and it has touched 2 GW in 2017-18.
Maharashtra is the largest rooftop solar state in India in terms of installed capacity followed by Tamil Nadu, Rajasthan and Karnataka, while Uttar Pradesh, Andhra Pradesh and Punjab lag far behind the target. Uttar Pradesh and Andhra Pradesh are among the nine states that have a policy for gross metering in addition to a net metering policy. Almost all utilityscale developers have jumped on to this bandwagon, assigning separate terms for establishing their solar rooftop businesses. In the past one year, number of engineering, procurement and construction companies have entered into this market, mostly concentrating on different regions in the country. As far as the policy framework is concerned, all the states have announced their net metering policies for rooftop solar, which is noteworthy.
Solar Rooftop PV Design
A solar photovoltaic power plant consists of different components i.e., photovoltaic modules, mounting system, dc–ac converter and electrical connections. The Rooftop PV systems are smaller PV systems in comparison to land mounted ones, installed on rooftops of residential, commercial or industrial building complexes. It comprises of solar inverter, meters for regulating electricity generated and various components for modification of electrical output and input rate in kWp. The electricity generated from such systems could either be entirely fed into the grid at regulated feed-in-tariffs, or used for self consumption with the net metering approach.
Rooftop solar PV installation technology in urban or rural areas requires intervention for (i) Grid connected solar installation; (ii) Solar system synchronised with diesel genset (iii) Off-grid solar installations with battery back-up. Designing of rooftop solar according to local conditions is the basic engineering skills required. Methods must be devised to capture low radiation energy and converted into actual power for optimisation. A good design would integrate the location specific parameters with rooftop solar PV system. Full potential of non-grid Rooftop PV is yet to be utilised as due to high cost. With part financial support provided by the state to promote their use, such systems are considered the most appropriate for rural and remote areas. In the regions of power shortages, performance reliability of non-grid rooftop PV can also be improved with back-up battery and this helps in bringing down the cost.
Need for New Business Models
High capital cost of Rooftop Solar system which is estimated approximately Rs. 75,000/kW has been a key challenge for its adoption by the industry or small consumers. The payback period is 6 to 7 years and 9 to 10 years in commercial and residential sectors, respectively. The success of Rooftop Solar system, therefore, remains dependent on new business models evolved from time to time to overcome the cost barrier. At present three types of business models are envisaged.
i. Self owned, the roof owners own the PV system and generates electricity. It is called CAPEX (capital expenditure) model and the risk is of the owner who invests in the system. ii. Third party ownership, in which third party or a developer bears the cost of solar rooftop and sells to customer at a rate lower than grid tariff. This is called OPEX (operational expenditure) model because developer which is also Renewable Energy Service Company (RESCO) pays for the system for specified number of years and also owes the risk. Third party investment model has only 10 per cent share at present. It is yet to pick up because of high contract default risks arising from rapid declining cost of solar energy.
iii. The third is Lease model in which customer leases the system and pays for it overtime. This type of arrangement may suit multi-storey flat owners but not yet come into existence.
To make solar Rooftop Solar system an attractive proposition, Indian Renewable Energy Development Agency (IREDA) is joining hands with banks and multilateral financial institutions to provide soft loans for development of solar rooftop system.
Policy Initiatives
In its efforts to encourage the implementation of rooftop solar projects, the government has rolled out a number of schemes and regulations. In 2015 Government of India has considered increased provisions of funding for implementation of grid connected rooftops over next five years. The subsidy of 30 per cent announced to all states and up to 70 per cent to special category states. The commercial and industrial sectors are made eligible for accelerated depreciation, custom duty concession, excise duty exemption and tax holidays. The Sustainable Rooftop implementation of Solar Transfiguration of India (SRISTI) scheme the Ministry of New and Renewable Energy to target residential rooftop owners. Under this, the government has earmarked Rs 235.5 billion as financial assistance to be given for rooftop solar installations to discom on a performance basis. To address the quality issues associated with installations, the MNRE has also come up with standard for grid connected and off grid rooftop solar projects. In addition, the MNRE has brought battery energy storage systems under the purview of the solar photovoltaic systems. This will be beneficial for the rooftop and off grid segments as many consumers rely on batteries to meet their peak load and regulate the photovoltaic module output.
Following the trend set by the Central Government, the state agencies have also announced their own schemes for improving rooftop solar deployment to meet their renewable purchase obligation. The Uttar Pradesh Government provides a subsidy of Rs 15,000 per kW for rooftop solar projects in the state, this amount would be capped at Rs 30,000 for projects exceeding 3 kW. Added to that, a financial subsidy of 30 per cent or Rs 21,000 per kW could be provided by the center to the state. In Assam, a 70 per cent financial subsidy will be given for projects under its programme to develop 14 MW. Jharkhand has a programme to provide a 30 per cent subsidy, with additional 20 per cent subsidy for rooftop solar installations by educational institutions on their campuses. The other states have also announced subsidies on rooftop solar installation.
Net Metering
It is often said that one of the best way of popularising adoption of rooftop solar is by making net metering policies cohesive and also allowing users to sell surplus electricity to utilities. Net metering is helpful because the excess power is harnessed and used elsewhere and the source consumer gets equivalent benefit on his tariff or power consumption. A strong net metering policy not only helps in increased consumption of power generated by rooftop solar but also encourages its faster adoption among corporations and institutions once they see reduction in their operational costs.
One of the biggest challenges around net metering has been involvement of various agencies and multiple approvals leading to inevitable delays in implementation. Other challenges include lack of uniform regulation across the country, caps on energy that can be returned to the grid at an absolute number of KWs without regards to class of consumer, reluctance of distribution companies due to anticipated revenue loss and lack of understanding on part of implementing agencies of net metering as a concept for being an enabler for residential rooftop solar. In most of the states, the officers of distribution companies are not aware of the policies and they don't have the required infrastructure to record and give benefits of units exported to grid. Addressing these issues in a time bound manner in relation to the yearly targets envisaged will help give thrust to the adoption of net metering as a key tool to achieve the overall growth of rooftop solar. There is need to build infrastructure for net-metering and also educate all concerned so that net metering can be implemented.
Challenges
As against Ministry New Renewable Energy (MNRE) target of 5 MW in 2017-18, cumulative rooftop solar capacity touches 2 GW as on March' 2018, with less than 5 per cent of the 40 GW rooftop solar target to be achieved by 2022, it is clear that there are bottlenecks on the supply and demand side that are posing significant challenges to the segment's growth. On the supply side factors such as lack of debt financing, high customer acquisition costs, low entry barriers, resulting in inexperienced players entering the fray, and focus on capital expenditure over operational expenditure by service providers have led to the situation. On the demand side, factors such as heavy focus on commercial and industrial entities, exclusion on residential sector, lack of consumer awareness, lackadaisical movement on net metering, and moderate tendering activity due to multiple stakeholder involvement appear to be the key reasons for the slowdown.
While the government has introduced some growth-enabling policies, their implementation has run into many challenges and operational issues. Different land and infrastructure agreements have different duties levied on them, instead of a stamp duty in some states. The goods and service tax (GST) for the solar segment has been the subject of discussion in last year. There was a major debate about taking modules at 5 per cent or 18 per cent, before it was finally settled at 5 per cent. There is also ambiguity regarding the GST for balance of system equipment. While GST has been specified for a few components such as inverters, the rates for remaining parts remain ambiguous.
A developer's primary job is to set up a plant and produce power, instead of going to the judiciary to settle legal and regulatory issues. In addition, any changes in law will only lead to legal completions, thereby, delaying project development. Therefore, there should be greater certainty regarding the regulatory regime. The main barriers faced during large scale deployment of solar rooftop PV include lack of awareness among consumers about the system, lack of manufacturing facilities, lack of skilled workforce, high upfront cost and lack of business models and regulatory challenges.
Consumer Awareness & Acceptance
Consumer awareness about the rooftop solar PV and its market acceptance is the most significant challenge in promoting solar energy, which is having a social bias. The consumer not only has greater affordability and awareness about the consumer rights, but also is facilitated with dynamic policy instruments which are consumer friendly. In developing countries people are less aware of the government policies and the available incentives. Being cleanest source of energy its climate change imperatives are not fully understood. There is need of Consumer guidance centers to educate about placement and function of meters, process for metering and interconnection with grid as well as maintenance are needed so as to achieve the potential target of rooftop solar. Nodal agencies in respective states may play a vital role in this regard
Way Forward and Recommendations
For development of rooftop solar, the central and state governments have done good job on solar rooftop policies, incentive mechanism, recommended changes to the net metering rules and plant size specifications to accelerate solar rooftop. Since last year, many uncertainties have disrupted growth momentum like fluctuation in PV model prices, bottleneck in implementation of net metering and uncertainty in policy on the implementation of unviable duties. Many government agencies including Solar Energy Corporation of India had tendered mega projects for subsidies and incentives for residential, social and government sector rooftop installations. Further, there is substantial reduction in capex on the rooftop solar. A lot is still required to be done to promote and educate private sector for rooftop solar installation.
Net metering and a package of incentives to utilities are no doubt necessary foundations. Means of covering investors risk and greater consumer awareness can be the basic building blocks. Skill development, maximising rooftop spaces and mandates to support the adoption of rooftop solar can lead to a sustained growth.
The rooftop solar power market needs to gain traction in order to achieve its targets. The thrust, however, must come from policies that look to simplify the approval procedures through single-window clearances. The financial subsidies should be removed for the C&I consumer segments and the market should be allowed to grow on its own in order to create a sustainable ecosystem. A framework for development of rooftop solar system plus storage technology also need to be developed to enable better offtake of power and innovative methods of finance must be introduced to lower the cost of capital.
While strong foundations are being built in India through net metering policies and revising package of incentives; at city level greater role of municipalities in amendment of building by-laws for considering solar rooftop structure as temporary structure so that it does not need fresh approval for raising height of the building and role of DISCOMS in providing reduction in electricity bills by selling at lower rate in proportion to higher wattage achieved from solar installation so as increase home owners' contribution in energy security for 24×7 power for all are being considered. Provisions are also needed for soft loans, tax credits in property and investment. It is also proposed to make solar rooftop mandatory for properties with connected loads greater than 20 kW.
Conclusion
The development of rooftop solar projects makes considerable sense for the industrial and commercial segments as the levelised tariffs are significantly lower than grid-based tariff. These segments are, therefore, driving growth in the rooftop solar space, followed by the government and institutional segments. Urban homes and residential societies, however, have not been as enthusiastic owing to the lack of awareness as well as the high upfront cost of these projects.
---